Split Type Ultrasonic Homogenizer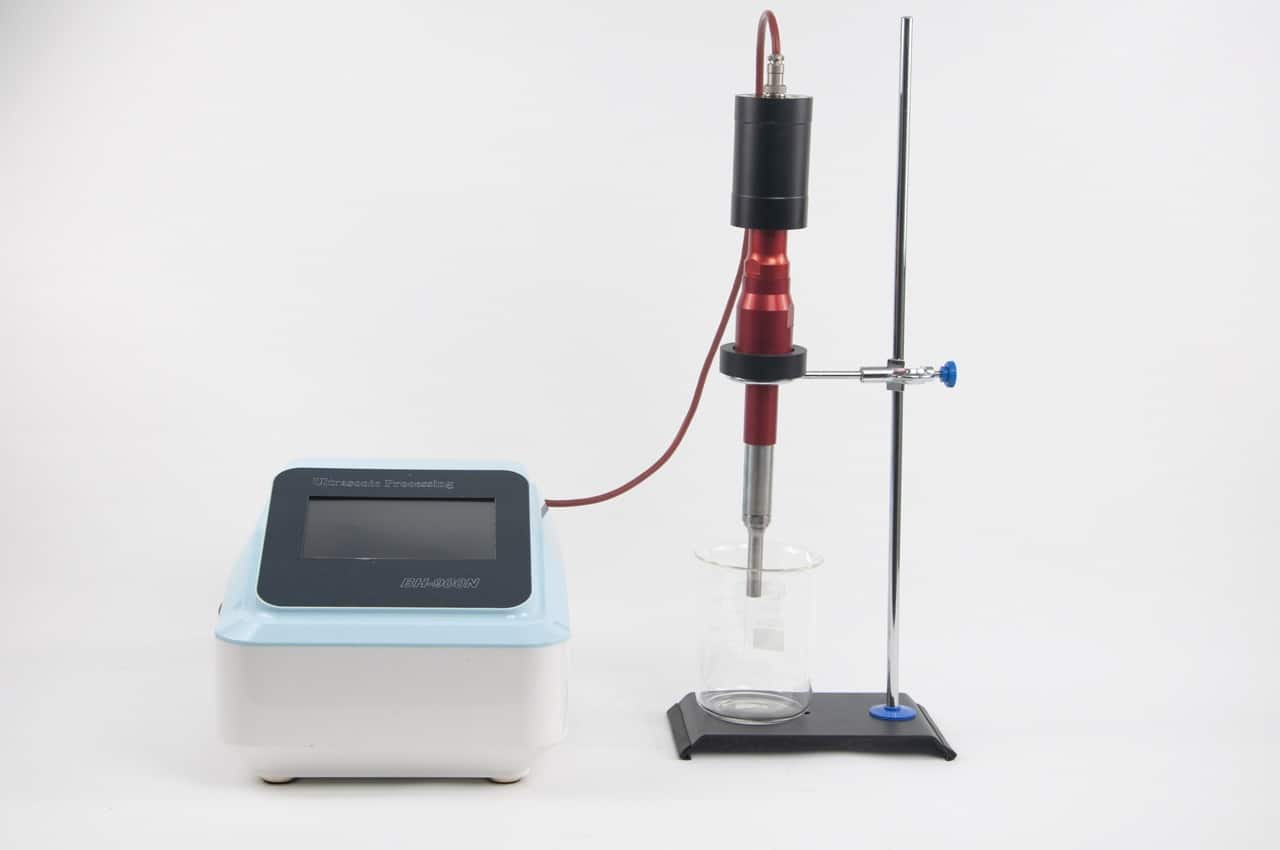 Homogenizer Key Feature
【Easy-to-use】 7" Colored Touch Screen, 3 working mode, Programmable operation. Easy-to-use interface allows in-process monitoring of key variables, including time, power, energy, temperature and experiment progress.
【Automation】Self-Designed 19 ~ 26kHz auto sweep PCB circuit, auto-tracing frequency & power control, auto-running, auto-protection.
【Long-life Titanium Probe】T1-6AL-4V Titanium, working maximum at 1112°F high temperature, acid and alkali resistance.
【Wide Application Range】Sample preparation, cell disruption, nanoparticle dispersion, mixing, homogenization, DNA, cell lysis, protein extraction.
【TWO YEAR Warranty】Quality Guaranteed
Split Type Ultrasonic Homogenizer
Ultrasonic Processors:
Up to 2000 Watt Ultrasonic Processors to safely process a wide range of organic and inorganic materials, from 20 milliliter to 5 liter*.
Typical applications include nanotechnology (producing nanoparticle materials and Graphene dispersions), cell lysing, sample preparation, homogenization, ChIP Assay, emulsification, disaggregation and deagglomeration, plus uses in the field of sonochemical processing.
Sonication is a well-established emulsification technique that breaks down the oils into nanoparticles resulting in a stable emulsion with increased bioavailability. A state-of-the-art touch screen interface offers intuitive control and provides a user-friendly experience. The most important feature of a Sonicator is reproducibility. Improved internal circuitry guarantees more efficient operation, sample-to-sample consistency and most importantly, a reliable end result.
The Integrated Ultrasonic Homogenizer/Sonicator system comes with high intensity (100µm amplitude) probes that are used to form water-soluble nanoemulsions in R&D/Lab Scale volumes from 0.2 mL – 5.0 Litre.
Working Power: 100 ~240 Voltage, 1200 Watt ( 0% ~ 100%)
Amplitude : ( 1% ~ 100%)
Standard Frequency:
20kHz. (19 ~ 26kHz optional)
Energy and temperature set-point control
Digital Type, 7″ Touch Screen, Programmable
Automatic tuning
10 hour process timer, Working & Pause (intermittent) Mode
Independent On / Off pulser
Variable power output control
Specification
Split Type
Ultrasonic Homogenizer
Power in
100 ~240 Voltage, 50 ~ 60 Hz, auto adapt.
Power out
1200 Watt ( 1% ~ 100% stepless control)
Can be 2000 watt for 25 ~ 30mm probe
Frequency
20kHz (Standard), 19 ~ 26kHz auto tracking frequency.
Generator Size
25 x 36 x 22 cm
Probe Size
Φ12.7 mm, length: 80 ~ 100mm (Standard)
Energy and temperature set-point control
Digital Type, 7.0 " Touch Screen, Programmable
Probe Materials
Titaninum Alloy
optional Probe Size
Φ3mm, Φ6mm, Φ9mm, Φ12.7mm (Standard)
Φ20mm, Φ25mm, Φ30mm
Maximum Volume
upto 5 Litre
Packing
1 set Ultrasonic Generator (SS-GEN-LAB)
1 pc Ultrasonic Converter with Titaninum Probe
1 pc power in plug & wire, 3 pcs fuse wire
2 meter HF cable for converter connection
Split Type Ultrasonic Homogenizer Photo Gallary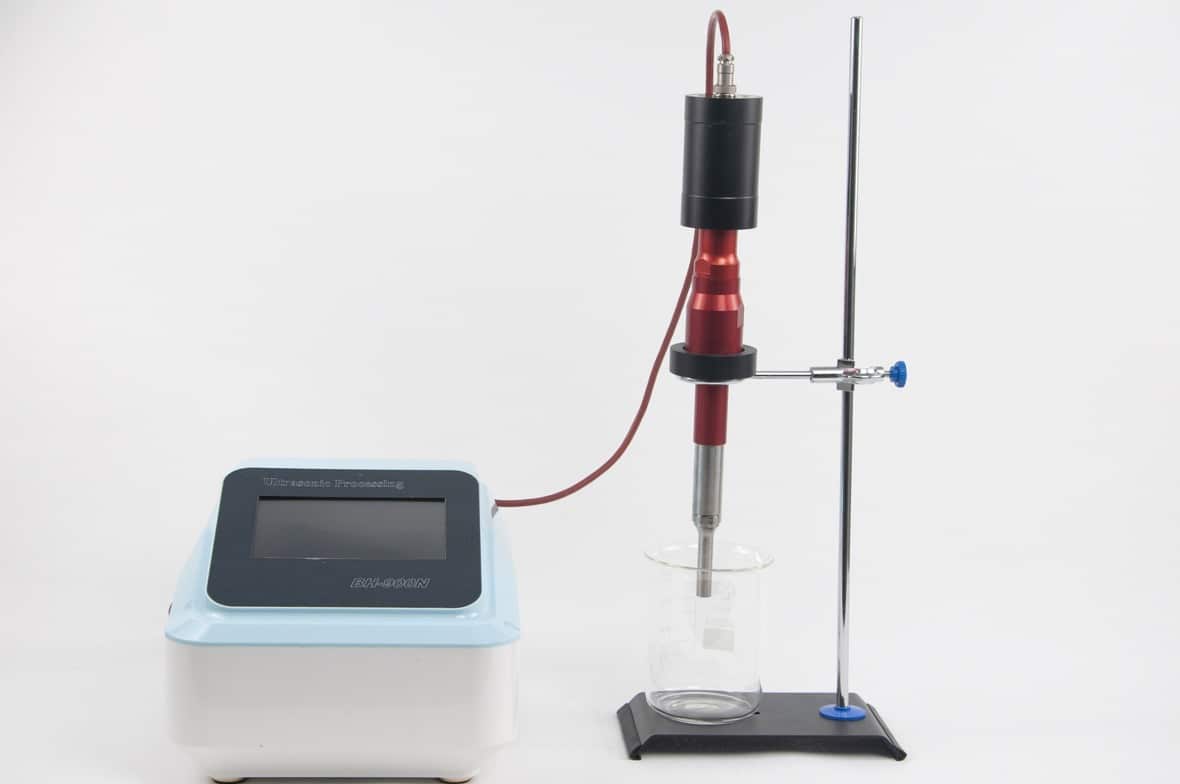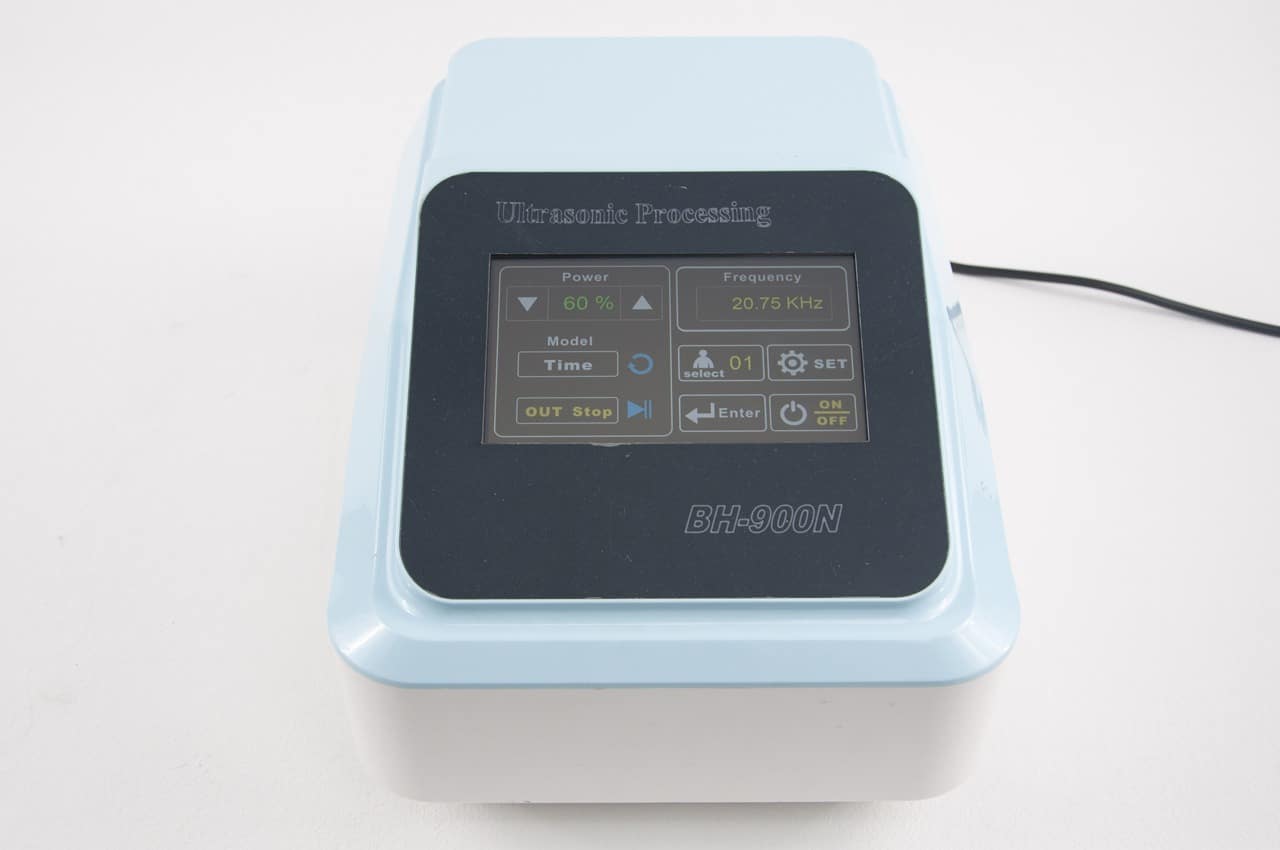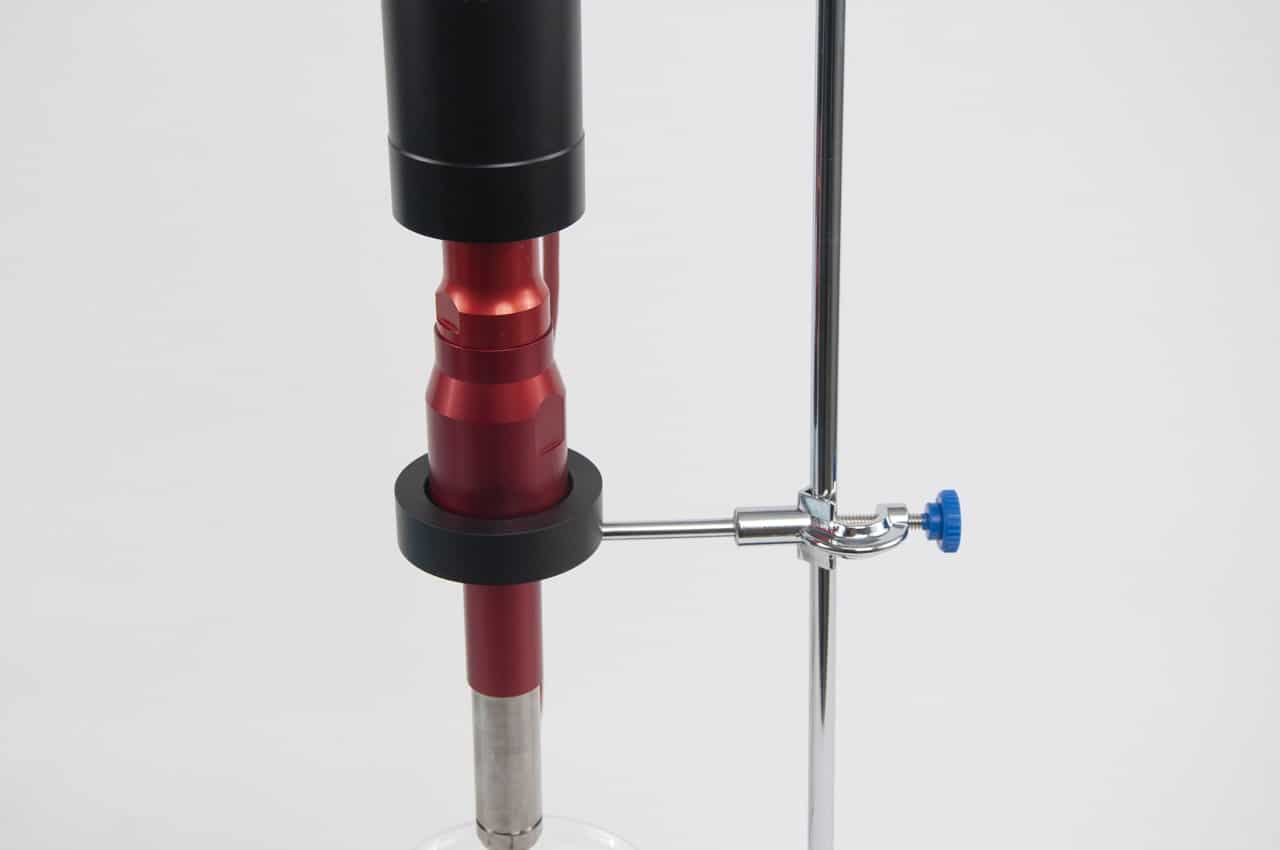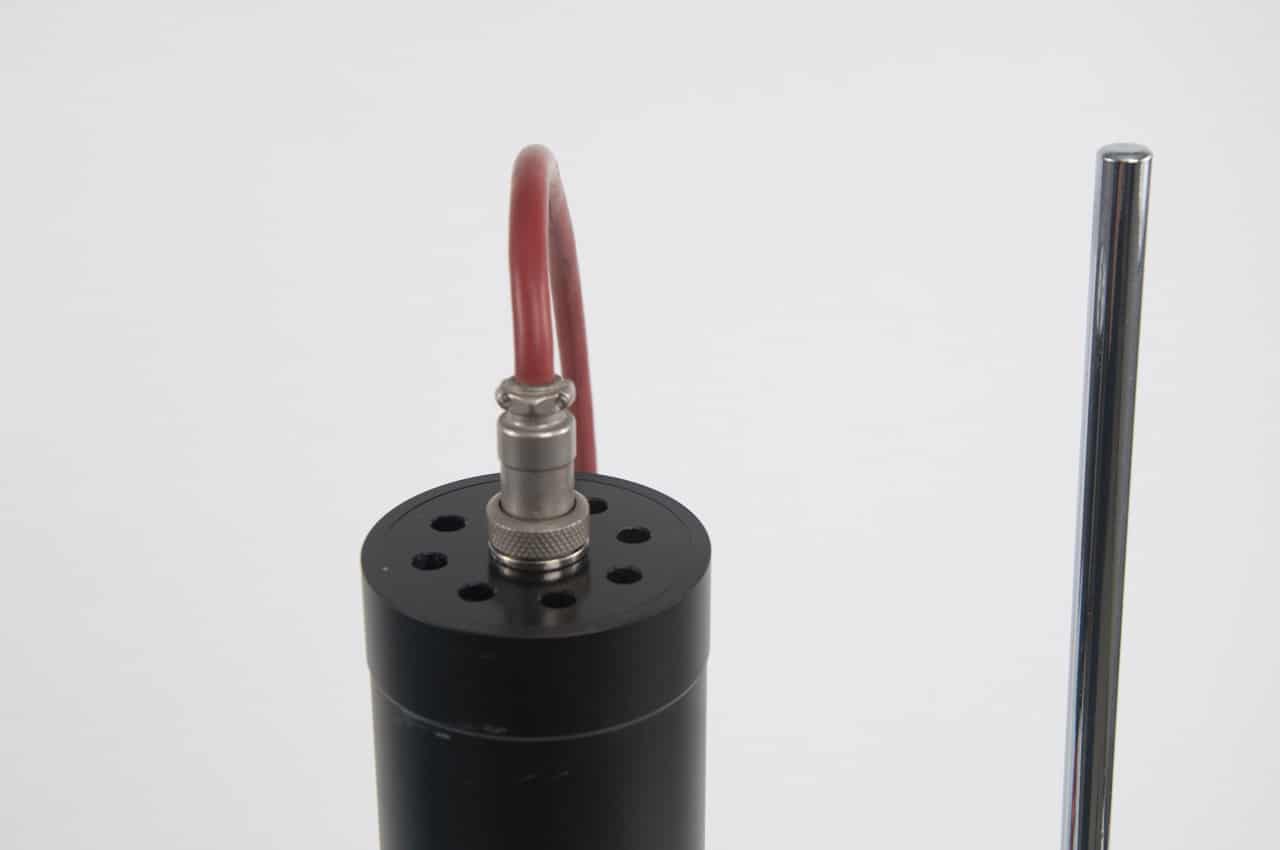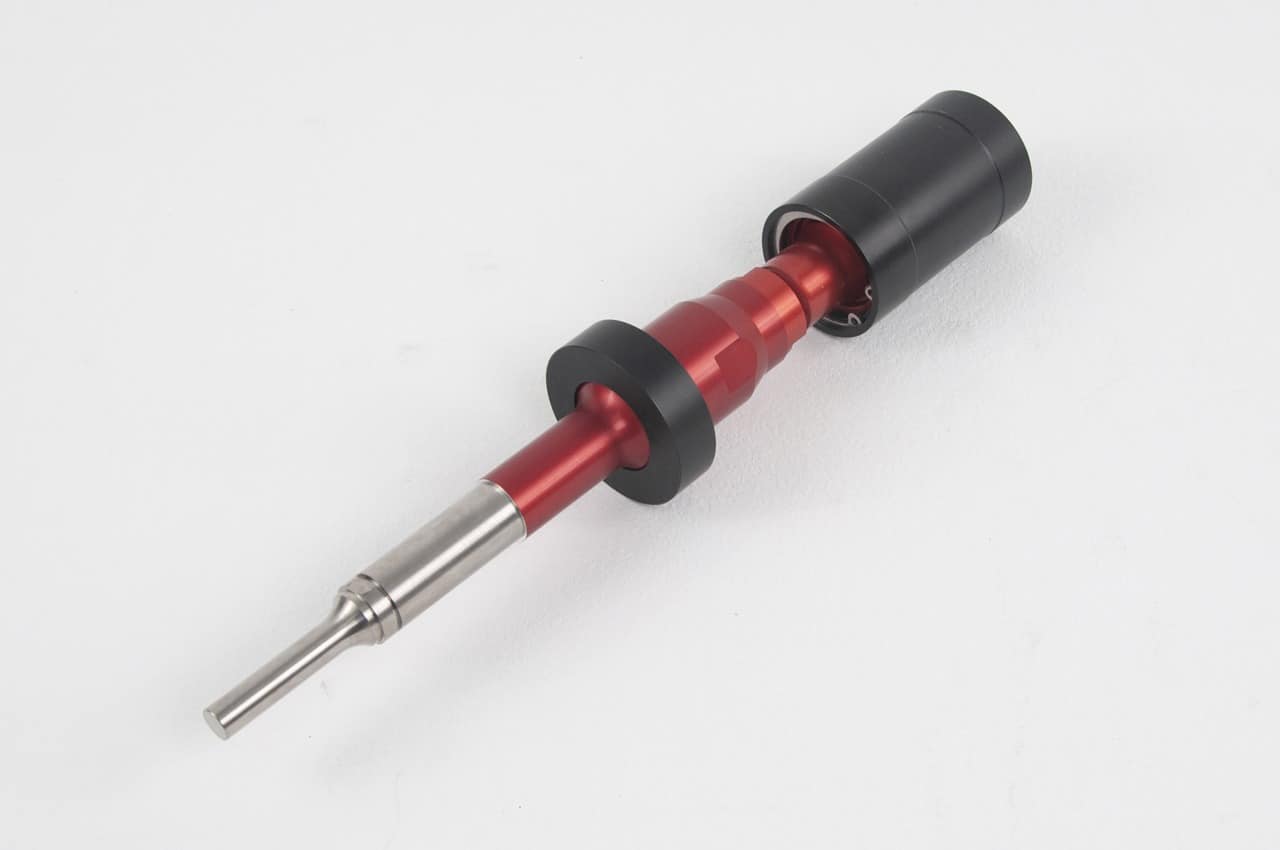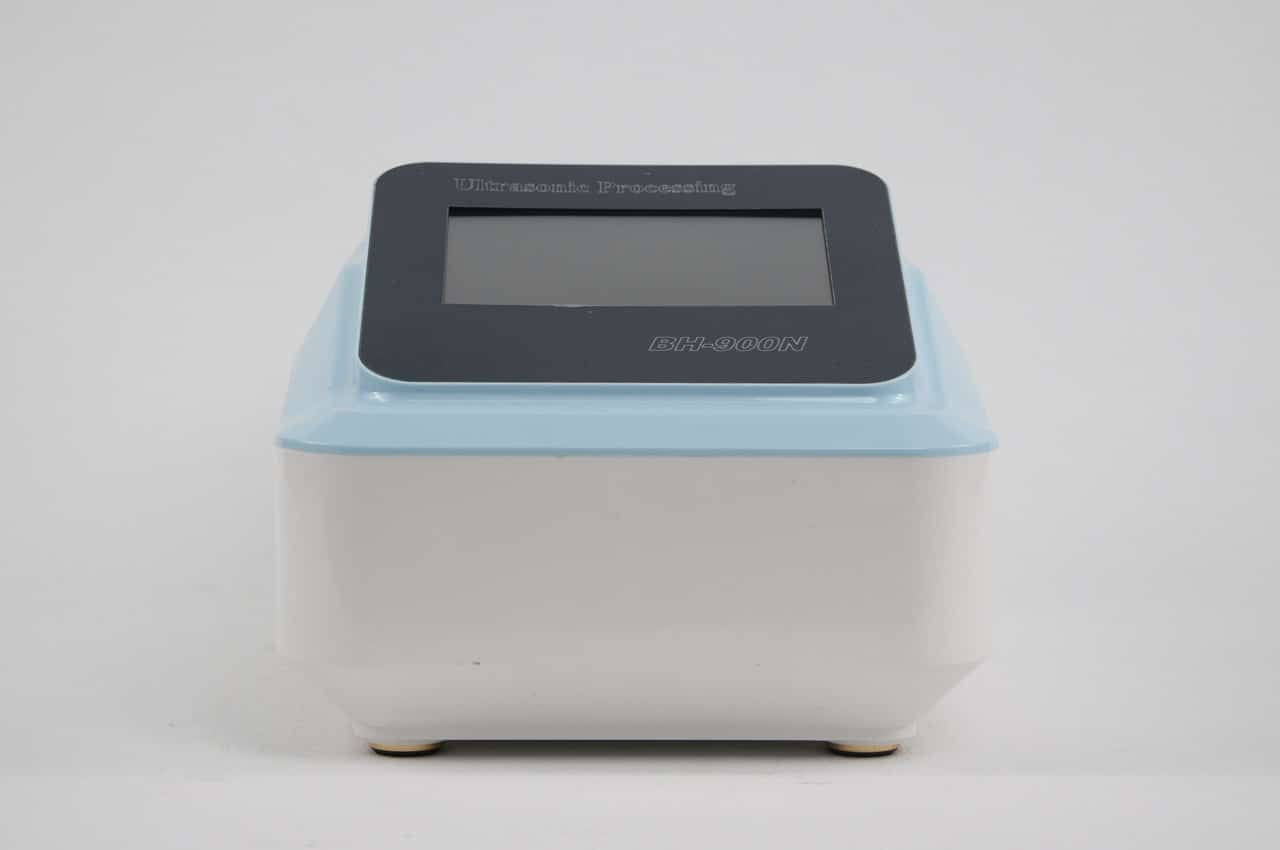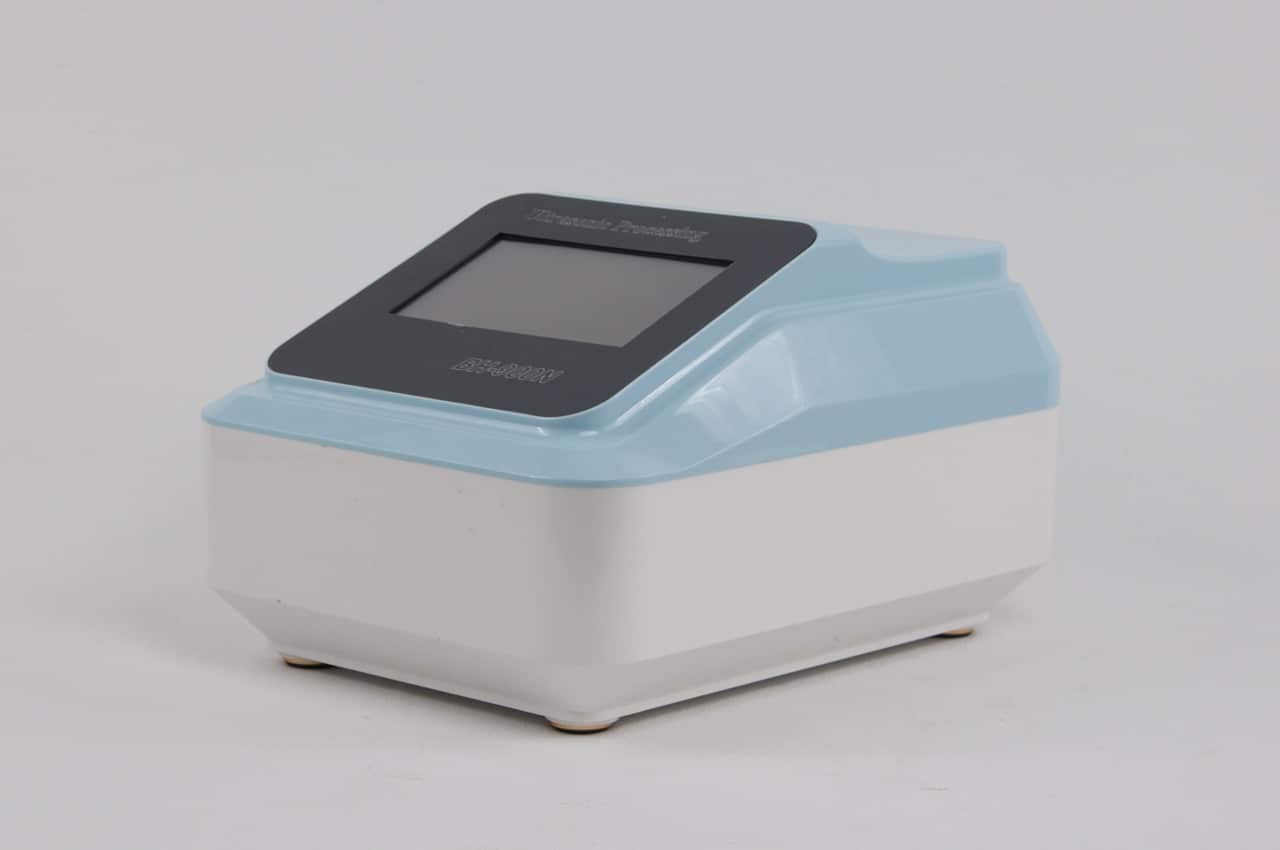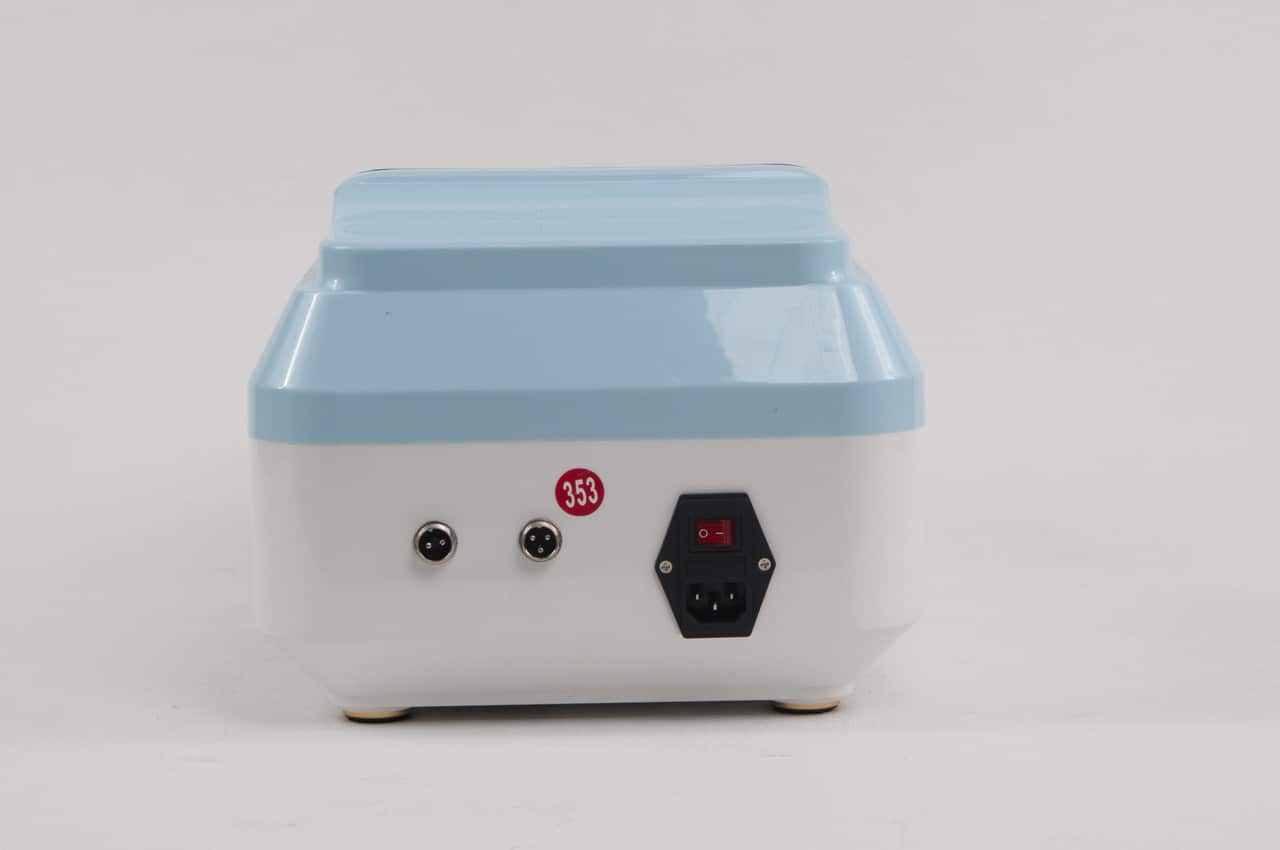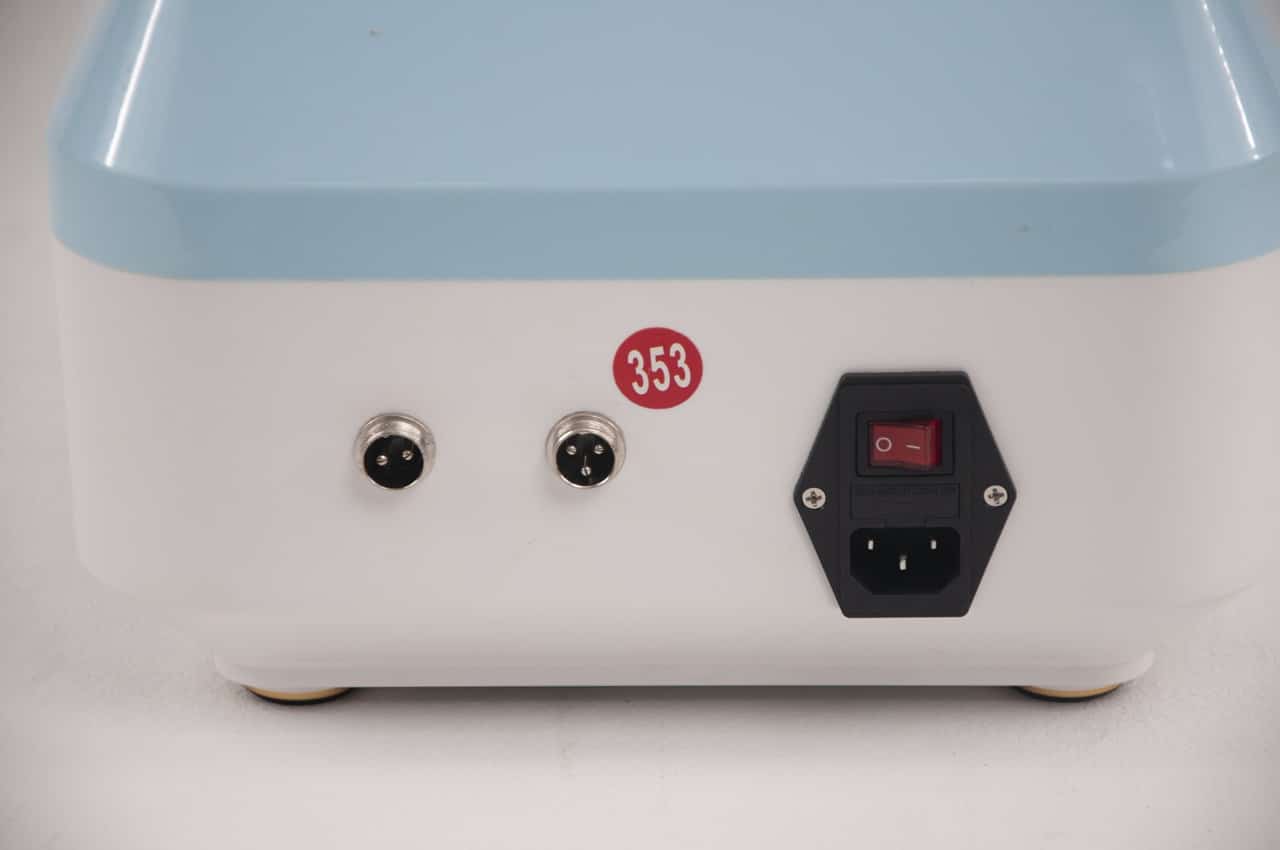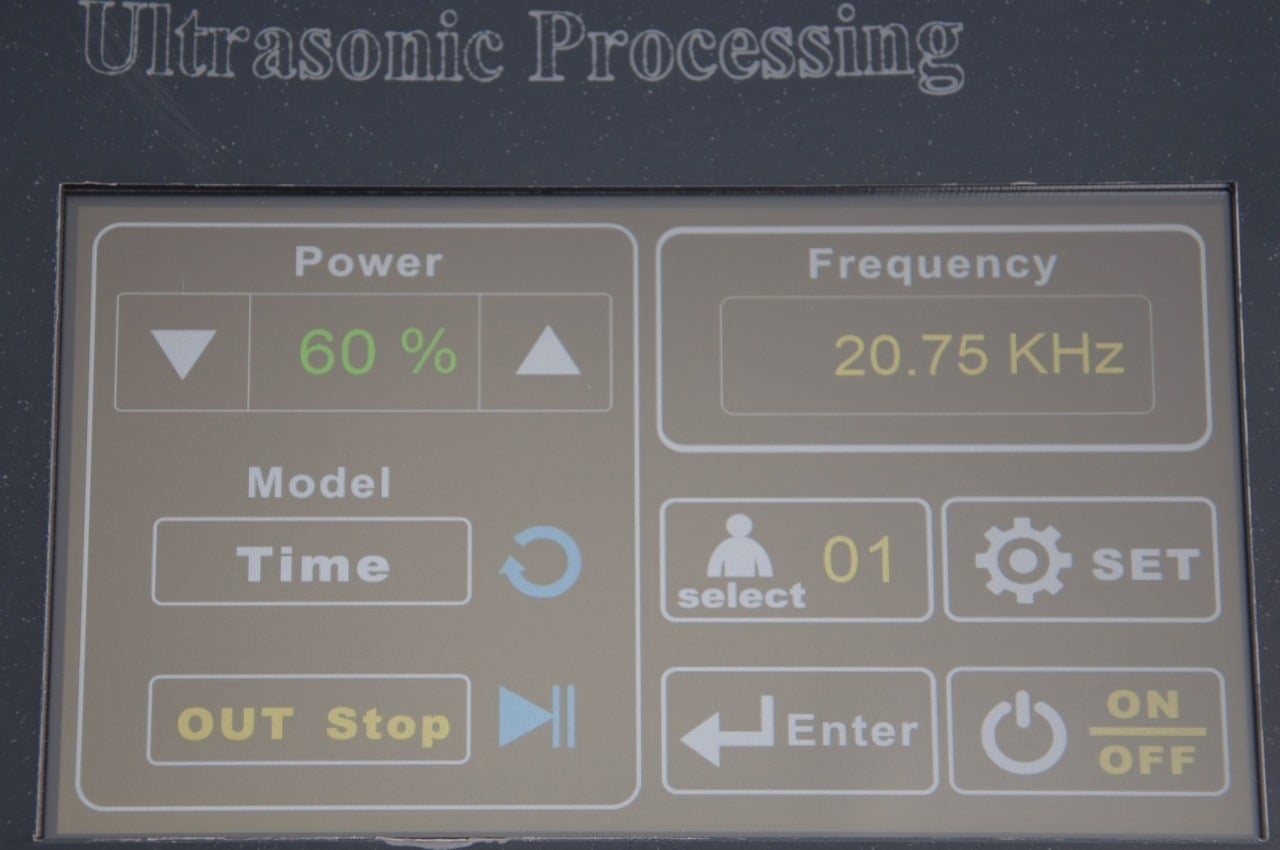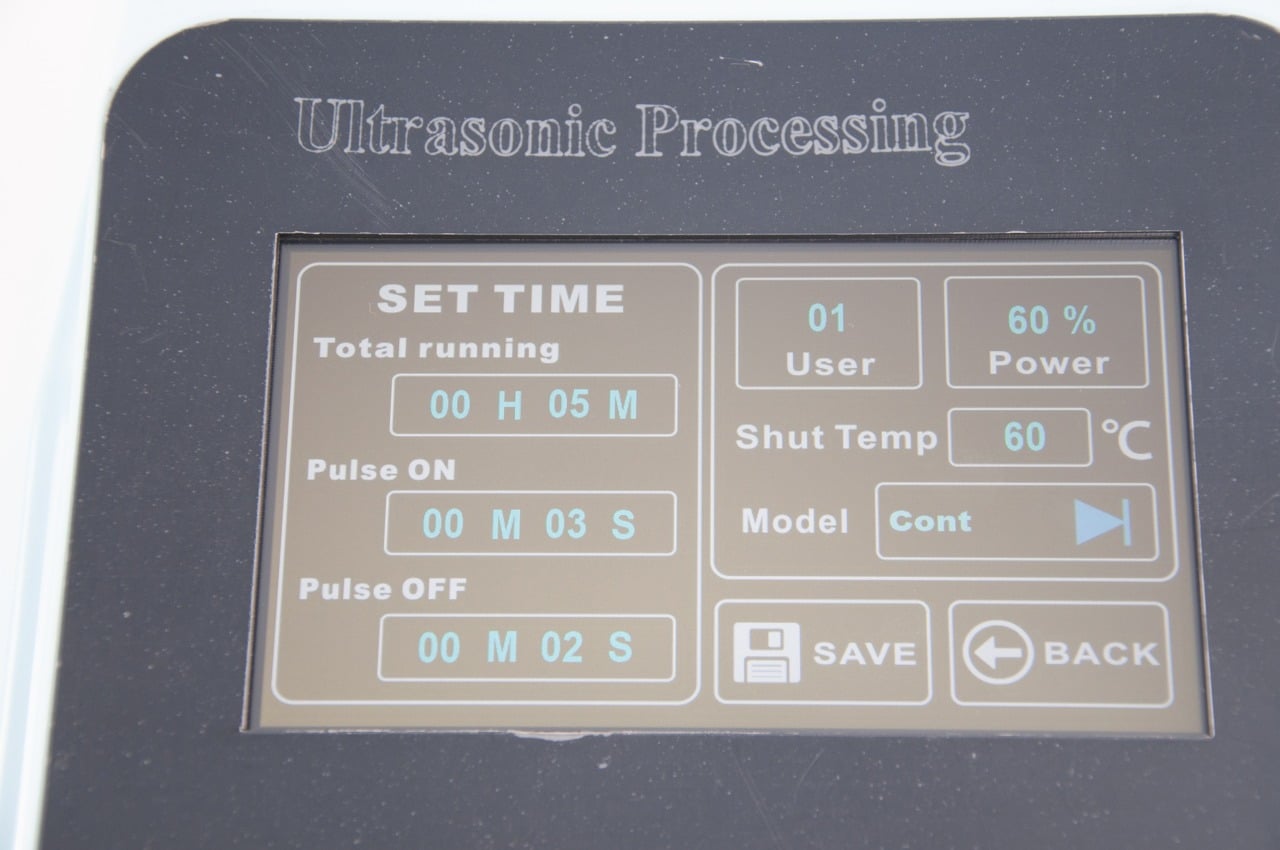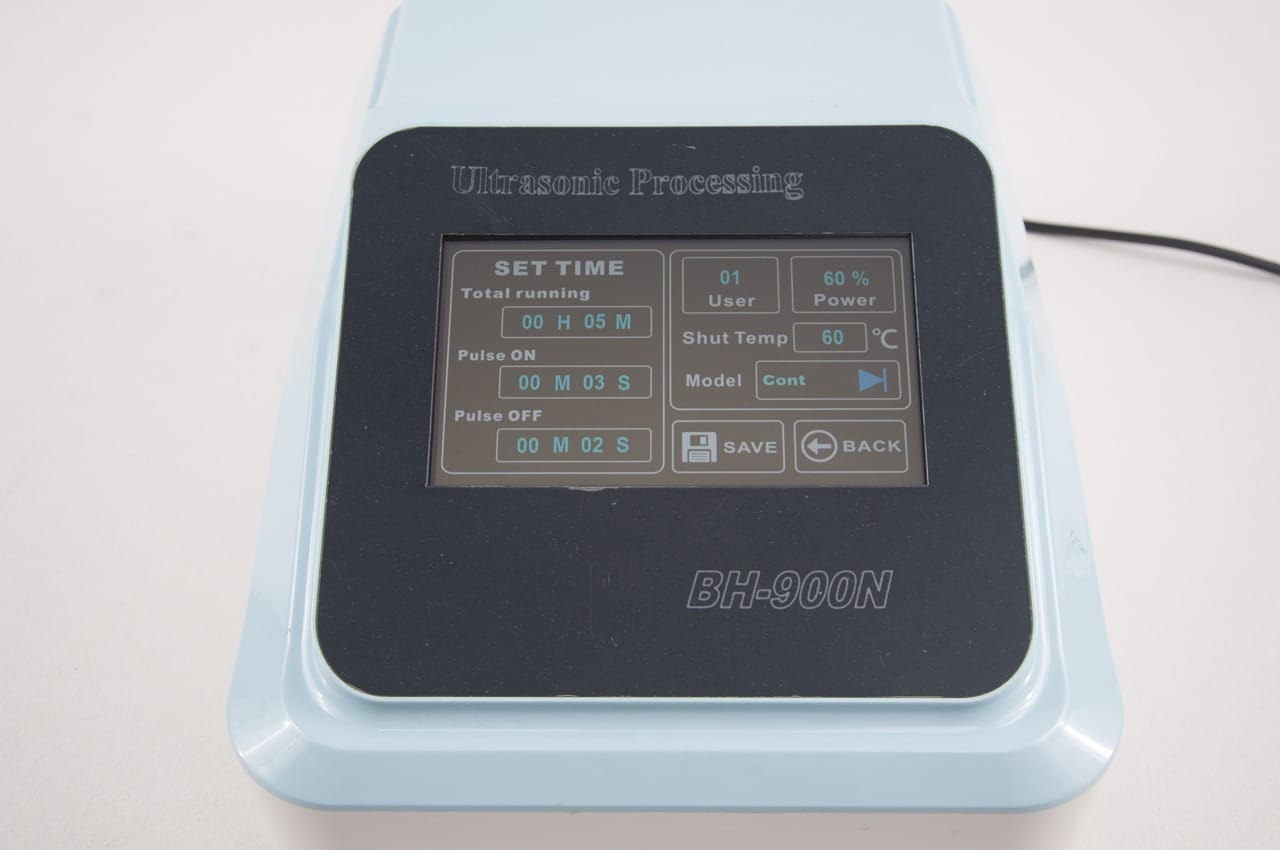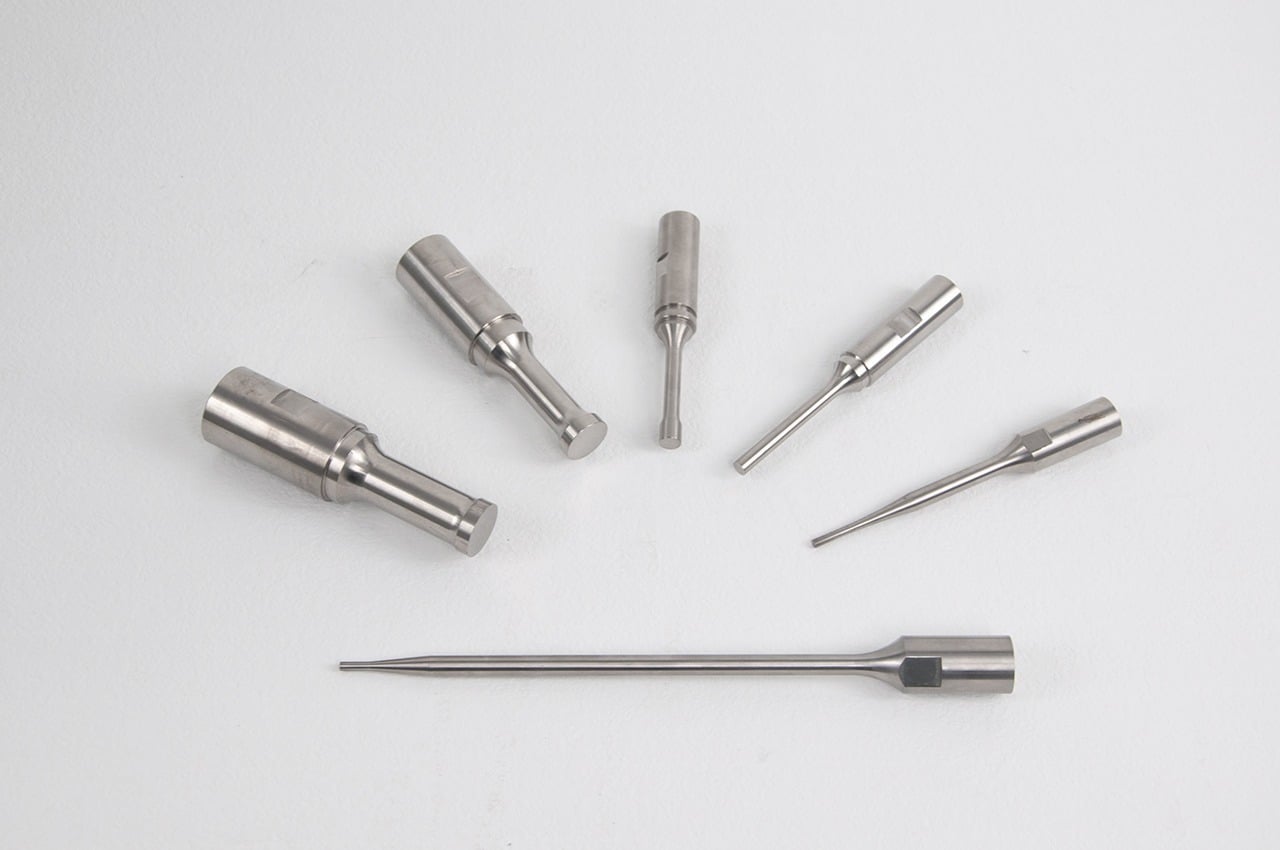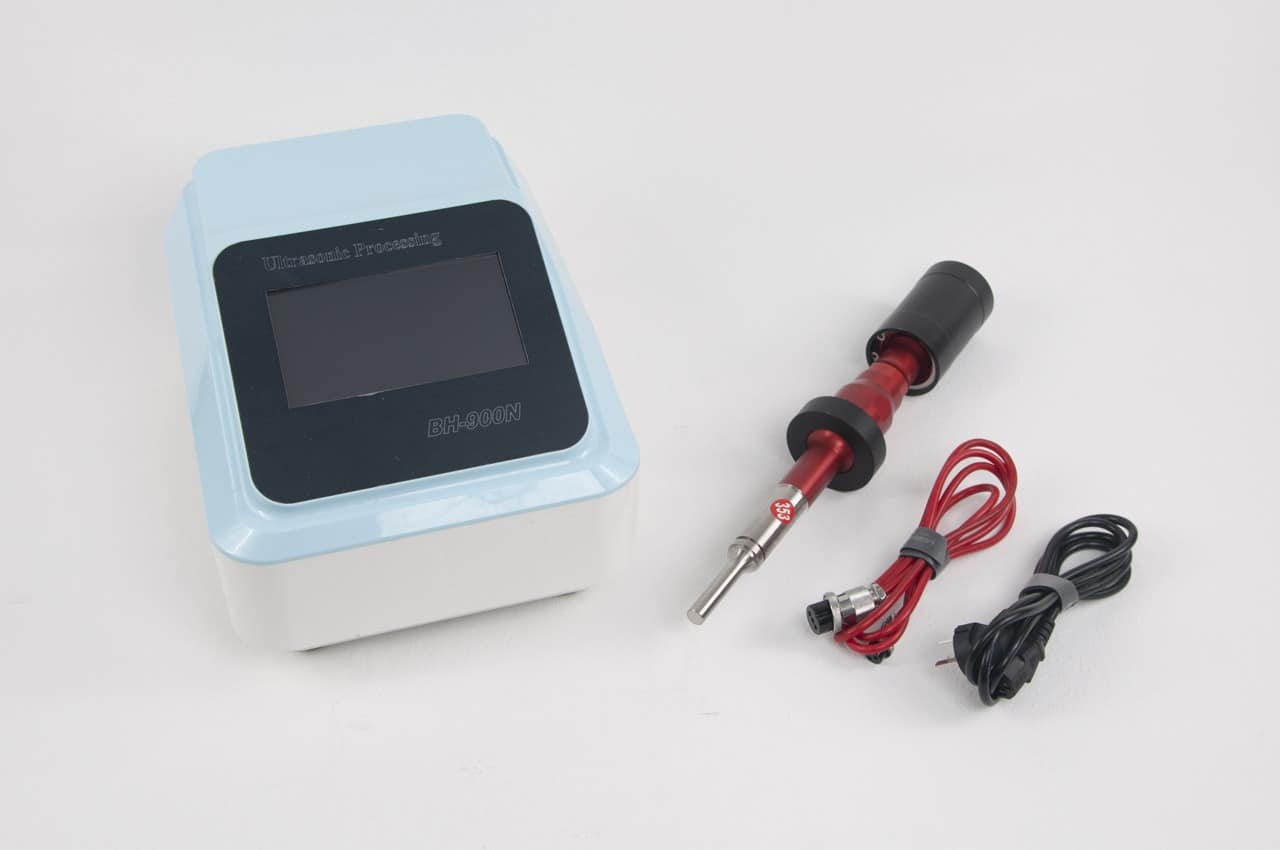 Working Principle:
The ultrasonic electronic generator transforms AC line power to a 20 ~ 40KHz signal that drives a piezoelectric convertor/transducer. This electrical signal is converted by the transducer to a mechanical vibration due to the characteristics of the internal piezoelectric crystals.
The vibration is amplified and transmitted down the length of the horn/probe where the tip longitudinally expands and contracts. The distance the tip travels is dependent on the amplitude selected by the user through the amplitude control knob. In liquid, the rapid vibration of the tip causes cavitation, the formation and violent collapse of microscopic bubbles. The collapse of thousands of cavitation bubbles, releases tremendous energy in the cavitation field. Objects and surfaces within the cavitation field are "processed".
The probe tip diameter dictates the amount of sample that can be effectively processed.
Smaller tip diameters (Microtip probes) deliver high intensity sonication but the energy is focused within a small & concentrated area. (0.5ml to 30 ml)
Larger tip diameters can process larger volumes, up to 5 liter vessel.
Working Application:
High shear forces created by ultrasonic cavitation/ vibration have the ability to break up particle agglomerates and result in smaller and more uniform particles sizes. The stable and homogenous suspensions produced by ultrasonics are widely used in many industries today. Probe sonication is highly effective for processing nanomaterials (carbon nanotubes, graphene, inks, metal oxides, etc.) and Sonicators have become the industry standard for:
Nanoparticle Dispersion; Composite material preparation
DNA and Chromatin Shearing;
Cell lysis, tissue disruption; Cell Lysis-breaking extraction and smashing
Cannabis extracts (CBD, THC); Herbal Medicine and phytoextraction
Protein Purification
Homogenizing /Extraction of Soil Organic Matter
Sonication is effective for many other applications including:
Degassing / Liposomes / Crystallization / Emulsification / Extraction
Transesterification / Solubilize compounds / Virus isolation