Brand Name: Sino Sonics Piezo Ceramic Hemisphere

Materials: PZT 8, PZT 5, PZT 4 Series

Payment Term: Bank Transfer T/T, West Union, Paypal

Packing: Inside foam, outside: Carton Box with Fasten Strip

Delivery Time: 7-10 Days maximum after deposit.

Shipping Term: by DHL or FedEx, door to door shipment.

Place of Origin: Wuxi City, China origin.

Welcome customized size & OEM work.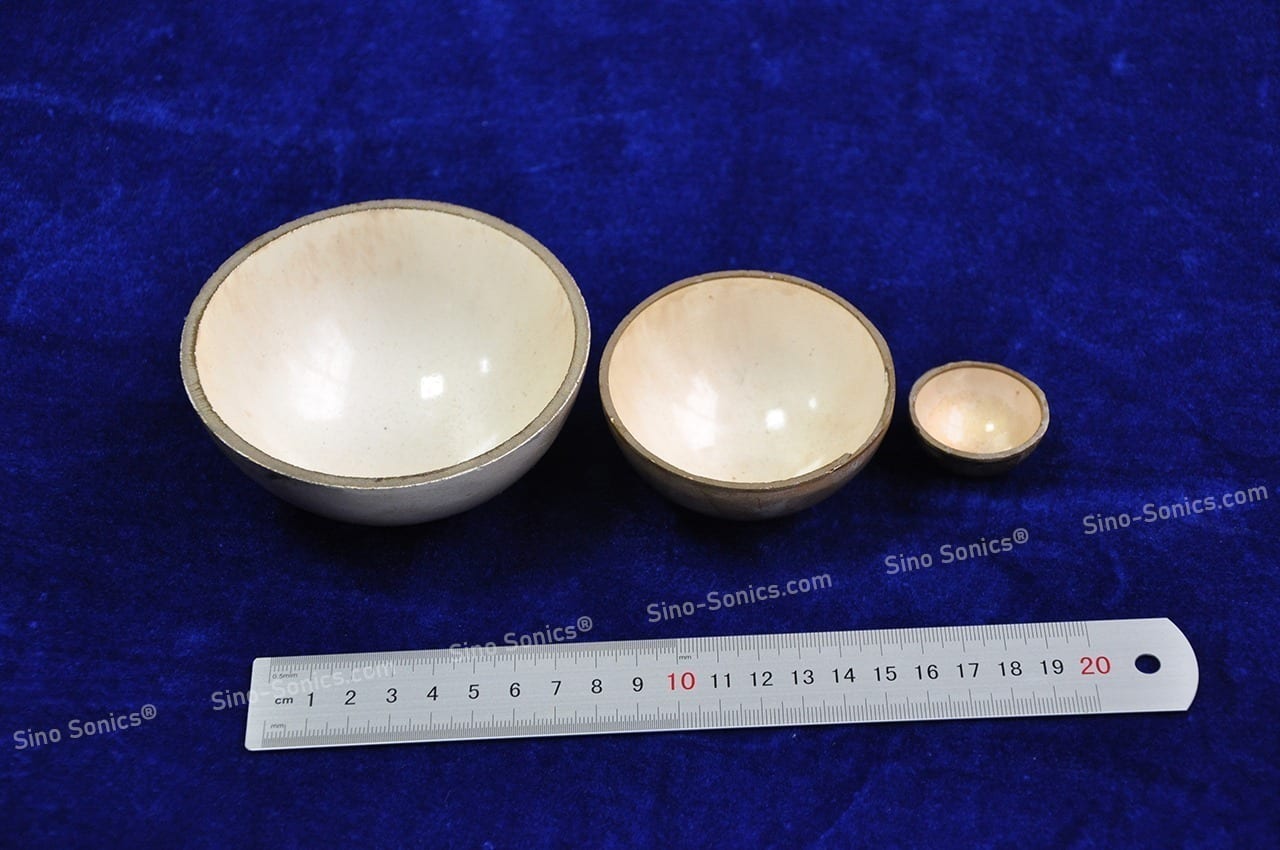 Here below shows our
standard size and ready stocks for Piezo Ceramic Hemisphere
Remarks:
Hollow sphere crystal series:
SR-series (semispherical element = only 1 part = ½ SΦ-series)
All size are Customizable! Customer's Design Welcome! Please purchasse at here!
| Type & Spec | Dimensions(mm) | Dimensions(mm) | Dimensions(mm) | Frequency | Coupling Coefficient | Capacitance |
| --- | --- | --- | --- | --- | --- | --- |
| | External Diameter | Small Hole | Wall Thickness | fs (kHz) | Kr | PZT-51 |
| SR5.0 | SR5.0 | Φ2 | 0.8 | 195 | >0.5 | 3.3 |
| SR7.5 | SR7.5 | Φ3 | 0.8 | 127 | >0.5 | 7.7 |
| SR10.0 | SR10.0 | Φ4 | 0.9 | 95 | >0.5 | 12.0 |
| SR12.5 | SR12.5 | Φ4 | 1.0 | 76 | >0.5 | 17.3 |
| SR15.0 | SR15.0 | Φ4 | 1.1 | 65 | >0.5 | 23.2 |
| SR17.5 | SR17.5 | Φ5 | 1.1 | 52.5 | >0.5 | 32.0 |
| SR20 | SR20 | Φ6 | 1.2 | 48.2 | >0.5 | 38.2 |
| Type & Spec | Dimensions(mm) | Dimensions(mm) | Dimensions(mm) | Frequency | Coupling Coefficient | Capacitance |
| --- | --- | --- | --- | --- | --- | --- |
| | External Diameter | Small Hole | Wall Thickness | fs (kHz) | Kr | PZT-81 |
| SR25.0 | SR25.0 | Φ8 | 2.5 | 46 | >0.45 | 13.1 |
| SR30.0 | SR30.0 | Φ8 | 2.5 | 38.3 | >0.45 | 18.7 |
| SR37.5 | SR37.5 | Φ10 | 3.0 | 31 | >0.45 | 23.4 |
| SR40.0 | SR40.0 | Φ10 | 3.0 | 23 | >0.45 | 28.0 |
| SR50.0 | SR50.0 | Φ10 | 3.0 | 22.7 | >0.45 | 45.0 |
| Type & Spec | Dimensions(mm) | Dimensions(mm) | Dimensions(mm) | Frequency | Coupling Coefficient | Capacitance |
| --- | --- | --- | --- | --- | --- | --- |
| | External Diameter | Small Hole | Wall Thickness | fs (kHz) | Kr | PZT-44 |
| SR25.0 | SR25.0 | Φ8 | 2.5 | 46 | >0.45 | 16.5 |
| SR30.0 | SR30.0 | Φ8 | 2.5 | 38.3 | >0.45 | 23.6 |
| SR37.5 | SR37.5 | Φ10 | 3.0 | 31 | >0.45 | 29.5 |
| SR40.0 | SR40.0 | Φ10 | 3.0 | 23 | >0.45 | 35.5 |
| SR50.0 | SR50.0 | Φ10 | 3.0 | 22.7 | >0.45 | 56.7 |