35kHz 1000Watt F30-ST-1
Compatible with Branson, Telsonic, Sonics and Materials, Misonix, Dukane. Welder,
Poreless, high-density, military-grade piezoceramics
Excellent electro-acoustic conversion efficiency
Minimal thermal dissipation and power losses
Large range of working temperature &low resonance impedance and heat productivity
Easy to installation & High reliablity
For bulk order price please contact our sales expert.
Description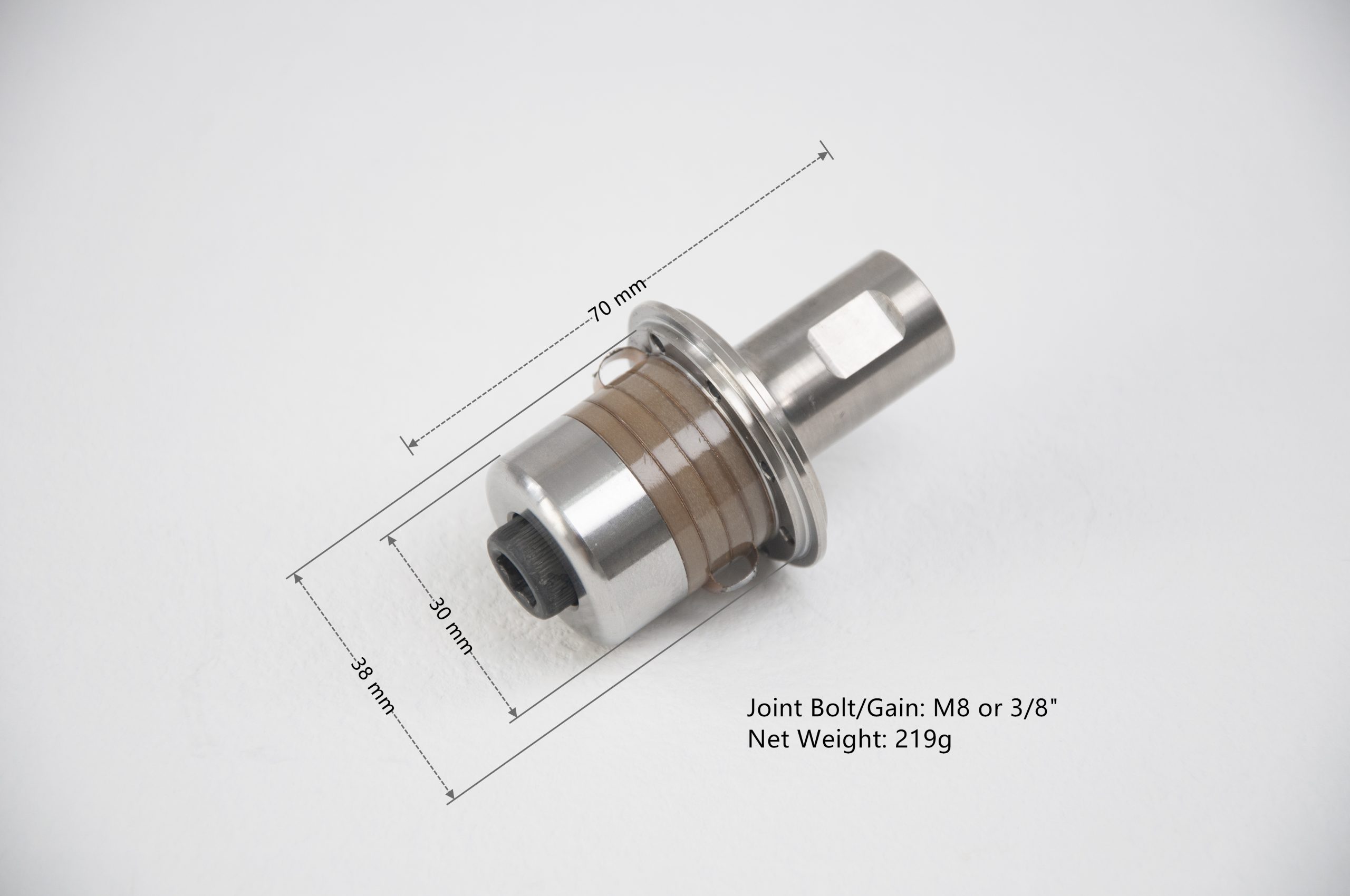 Electrical Specification
Data Result
Transducer Model No.:
35kHz 1000Watt F30-ST-1
Frequency (Fs ± 0.5kHz)
35 kHz
Transducer's Maximal Diameter:
Maximum Height /Length:
Φ43 mm
70 mm
Flange Size:
Φ38 mm
Piezoceramic Ring Diameter (mm)
Φ30 mm
Piezoceramic Ring Quantity (pc)
4 Pcs
Impedance (Ω)
Transducer : 4 Ω
Capacitance (C±10%pF)
8000 pF (P8 )
Input Power (Watt) Max
Rated Power: 1000 Watt
Amplitude (μmp-p)
Transducer : 10 μmp-p
Front Mass Metal
Titanium Alloy
Back Mass Metal
Titanium Alloy
Joint Bolt /Gain size
3/8″ or M8 Default Type: M8
Net Weight (gram)
219 gram
Total Height /Length (mm)
70 mm
Remarks:
Available optional accessaries:
Aluminum Booster
Titanium Horn /Sonotrode
Ultrasonic Generator (CE)
Friendly Reminder
* Here we showcase a range of top-quality replacement components at super-low prices. These parts are fully compatible with the standard components from major manufacturers including Branson, Dukane, Telsonic, SoniKks and Rinco, Weber, these major manufacturers and constructed to equal (in many cases slightly improved) quality.
* We're able to sell these ultrasonic parts at rock-bottom prices only because this is an automated operation with minimal overheads; we don't offer help in selecting suitable parts for a particular application, rather, you are expected to know what you want and be able to specify it exactly. Generally this means that you already have ultrasonic equipment working and need replacement parts for spares or to replace worn or damaged items. Likewise if you need further information about these parts please see the other manufacturers'sites linked above.
* We supply transducer, also transducer with booster & horn. & We offer technical support, and welcome customer's design.
for more information, please click Additional information tab, or consult our expert.
Telphone No.: +86-510-84390688, Mobile & WhatsApp: +86-18626321806 or send us email.
Additional information
| | |
| --- | --- |
| Weight | 0.22 kg |
| Dimensions | 7 × 5 × 5 cm |
| Delivery Time | 7 days after receiving payment |
| Packing Style | Inside Foam + Carton (Fedex /DHL Delivery) |
| Payment Term | Bank Transfer T/T for Order $500 & more, T/T or Paypal or West Union for Order less than $500 |
Only logged in customers who have purchased this product may leave a review.
Related products
20kHz Branson Booster; Gain 1:1

20kHz Booster; Gain 1:1.25

15kHz Booster; Gain 1:2.5

35kHz 1200watt Vibrating-Screen Transducer

35kHz 1200watt Vibrating-Screen Transducer

20kHz 300Watt Transducer (Aluminum Housing)

20kHz 800Watt Transducer (Aluminum Housing)